House Sitter
Charlotte And Jeffrey Lee
To send a message to this house sitter, you must login or register.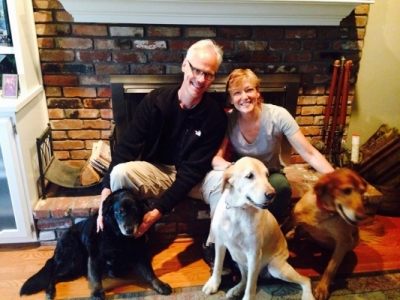 Location: Sioux Falls,, South Dakota
Age: 58
Experience: 6 yr 4 mo
Rank:





rate this sitter
About Charlotte And Jeffrey Lee:
We are two non-smoking professionals who have the ability to work remotely and are interested in caring for your home, garden and furry family. Recent empty nesters, we are looking for opportunities to see the world and experience it the way locals do. We have raised 3 children, pets of all kinds and an abundance of gardens - both floral and organic produce.

Jeff: I am a project manager for a global organization and have the freedom to work remotely from anywhere in the world. I am an experienced handyman with the ability to care for your home. As well, I am a musician and artist who is very interested in experiencing new inspirations to feed my creative side.

Charlotte: I am a fraud investigator who is also able to work remotely with flexible hours. I have the green thumb of the family and have adorned our properties with beautiful gardens of all types. Over time we have converted our back yard into a large organic garden that continues to reward us with an abundance of amazing fruits and vegetables every year.

Both of us love animals of all types. The flexibility of our schedules allow us to provide the care needed for any situation, whether it be long walks, belly rubs or grooming/medical appointments.

We have been happily married for 29 years and are excited to take a new step into the world. House sitting allows us to travel and experience new places. In turn, we will provide you the peace of mind that your home, pets and gardens will be safe and loved, and will continue to flourish in your absence.

For a complete list of references see our references page:
http://www.jeffandcharli.com/2014/11/references-jeff-and-charli-lee.html
profile viewed 1,049 times
Feedback Received 1
Jeff and Charli did a wonderful job watching our home and 2 large dogs for 2 weeks. They were very attentive to all of our instructions and concerns. They treated our home like their own and our dogs like their own! We can't recommend them enough!

Reviewed Feb 16, 2020 by homeowner in Encinitas, California
References 29
Rob L

Homeowner in Blythewood, South Carolina

Thanks so much to Charlotte and Jeff for their recent house sit. I have to say I was a little nervous about leaving anyone with my little mini-farm but they were more than up for the challenge. They bonded immediately with the dogs, chickens, turkeys and cows entrusted to them and took great care of my house as well. All were happy and doing well upon my return. Charlotte and Jeff are obviously great animal lovers and good cooks as well! I thoroughly enjoyed the pot of chili waiting for me on my arrival! They are a delightful couple and are welcome back here anytime. Thanks again to you both!




Date of Service Dec 1, 2019
Anita K

Homeowner in Hilton Head, South Carolina

Oh my, there might not be enough superlative words to describe how FABULOUS Charli and Jeff were. We knew we were lucky to have them even before they arrived from the emails and texts prior to the sit. They were able to arrive the night before we left and we had a very fun dinner getting to know them. You can tell they are expert house and pet sitters by their attention to detail and questions asked that first night. We knew we were leaving Scout (dog) and Daisy (cat) in great hands.
During our trip we got updated texts and pictures (and a video of Scout serenading Jeff playing the piano) that reinforced their absolute love for animals.
When we returned, (and oh by the way they took us and picked us up at the airport), Scout and Daisy were very, very happy guys. The house was cleaner than we left it and a delicious dinner, including wine, was waiting for us. I was even lucky enough to get some much needed technical computer support from Jeff that was above and beyond pet and house care.
We were so excited to have them come back anytime that we introduced them to neighbors with the hope of their return. We have absolutely made new life long friends!!! Come back ANY time, even if we are here!




Date of Service Nov 26, 2019
Christine C

Homeowner in Charleston, South Carolina

Cannot say enough good things about Charli and Jeff, a delightful couple who took great care of both dog and house.
Loved their enthusiasm and attention to details. They are full time traveling pet/house sitters and it shows. They are organized, punctual, extremely tidy and completely self-sufficient.
Charli, Jeff, it was a true pleasure to meet you both and you are welcome back any time your future travels bring you to the Charleston area. Warm hugs from myself and Forest.




Date of Service Nov 20, 2019
Ingrid And Maria

Homeowner in Pembroke Pines, Florida

Charli and Jeff are just phenomenal! We absolutely recommend them to anyone looking for an experienced house and pet sitter. They are also really nice people! From the moment we met them, we knew our kitties and our home would be in great hands. They were so professional when a hurricane warning was in effect in our area, right at the beginning of the sit. They followed all instructions for hurricane preparedness, and never scared away. We knew that the well-being of our kitties was a priority for them. This is just one example of how comfortable Charli and Jeff made us feel while away. We received frequent updates and photos of the kitties during our trip. The house was impecable when we returned. We would love to have Charli and Jeff sit for us again.




Date of Service Sep 1, 2019
Nancy And Derric

Homeowner in Upton, Massachusetts

Nancy - Upton Massachusetts
Sit Date: Jun 2019-August 2019
Their endorsement of you:
If you can get Charli and Jeff to house sit for you, do it! You aren't going to find anyone nicer, more sincere, more caring, or more professional than they are. We were fortunate to have them sit for us for about 7 weeks and could not have been happier. They communicated with us frequently before, during, and after the sit, and they left the house shockingly clean! We had concerns about finding the right sitters for our aging cat who has an on-again off-again relationship with his litter boxes. During our initial communications with them, we expressed these concerns and explained that he can be frustrating, but we needed someone who would be kind to him no matter what his behavior was. They just made the comment that everyone deserves to grow old with dignity and then laughed that they were used to working with older animals and had plenty of experience with pee pads. It was clear that they had just the right temperament for our little old man! They took great care of both cats, the house, the yard, and the garden, and we (my husband, me and both cats) would welcome them back any time!




Date of Service Jun 1, 2019
Natasha Terk

Homeowner in Oakland, California

Ask not what Charli and Jeff can do for you but what you can do for them!!! While we were gone for eight days, they took care of our house, dogs, rabbits, chickens, and garden splendidly. They managed a complicated rabbit/bunny situation (involving catching bunnies and nursing a couple of them back to health), took our mature tripod for car rides, and our little dog for long trail walks. Communication was top notch and the house was beyond perfect when we returned. Oh, and when our flight was delayed by 12 hours, they were willing to stay another night. Thank you so much Charli and Jeff!!!




Date of Service Apr 1, 2019
Colleen And Mike

Homeowner in Irvine, California

Colleen - Irvine, CA - March and May, 2019:
I don't even know where to start telling you how great Charlotte and Jeff were as housesitters. The dog and cat liked them so much that I think they were unhappy we returned. The house was in perfect, clean condition when we returned and they even made dinner, including desert and wine! They are both delightful people. Even our neighbors commented on how wonderful they were. I cannot say enough good things. I loved them so much that I asked them to come back in May for 2 weeks, and they did! Lucky me! If you can be fortunate enough to get them as your sitters, you will be forever spoiled.




Date of Service Mar 1, 2019
Candace Wolf

Homeowner in Lincoln, Nebraska

We cannot say enough good about Charlotte and Jeffrey! They were so wonderful with our elderly dog and communicated regularly with us during their stay. If you are lucky enough to have them stay in your home with your beloved furry family member you will be very fortunate and can rest assured the level of care they provide is second to none. Thank you so very much and hope we have the opportunity for you to return!




Date of Service Jan 15, 2019
Joshua Ying

Homeowner in Los Angeles, California

Charli and he husband Jeff are the best! They took amazing care of our 2 cats and our home over Christmas week. We returned to a house that looked as if it had been professionally cleaned and they were even thoughtful enough to leave us a delicious container of vegan chili, which was much welcome after a long day of travel. Our cats, one of which had been newly introduced to the house, were getting along together better than before we left. Charli was super easy to communicate with and always returned messages promptly. Throughout the week, she kept us updated on the latest news about our cats via text. If these two have applied for your "sit" i recommend you choose them immediately. You will not be disappointed.




Date of Service Dec 21, 2018
Holly Cole

Homeowner in North Vancouver, Canada

Last summer Charli and Jeff looked after our home and animals for almost a month and we couldn\'t have had better house sitters. We were thrilled when Charli agreed to return and housesit for us for a month this past summer. During one of the hottest summers in BC, Charli spent hours making sure our flowers, fruit and vegetable plants were well watered while keeping our home immaculate and our pets loved and cared for. There was not one moment while we were away that we worried about our house or our beloved pets as we had so much trust and faith in Charli. If we had to choose one word to describe Charli, it would be Responsible. Caring. Patient. Thoughtful. Meticulous. Loving. Organized. Sorry, we just can\'t narrow it down to one word, except to say she is the Best




Date of Service Sep 1, 2017
Beth R

Homeowner in Phoenix, Arizona

We were so lucky to get Charli as our first house sitter ever! So incredibly responsive and so friendly. Interested in knowing every preference you have so that expectations can be exceeded.

Our house was cleaner than we left it, laundry washed I left dirty and sheets changed and ready for or return after a long day of travel. So grateful she took care of of home, pups and conscious!

Thank you SO much!!




Date of Service Mar 1, 2017
Noelle L

Homeowner in Beverly Hills, California

Charlotte and her family were so wonderful to have taking care of my house. I feel so lucky to have had them looking after my dog and kitty. The house was in perfect condition, and my animals were all loved up when i got home. I received lots of updates and the comments they sent about my animals showed me how much they really were paying attention to them. I hope to book my vacations around their California schedule! Highly recommend




Date of Service Dec 30, 2016
Barbara Levine

Homeowner in Fullerton, California

Charli and Jeff were awesome house sitters. From the time they walked in our cats were at ease with them, especially Rex. Rex would sit on their laps for hours . When our plans changed (flight was cancelled) Charli and Jeff were very accommodating and even made us a vegan lasagna for dinner. It was very tasty. Upon arriving home and seeing how clean the house was I cancelled the house cleaners. We were very happy with Charli and Jeff and would absolutely use them again. They were more than house sitters they became our friends.




Date of Service Dec 20, 2016
Jean Griffin (keene)

Homeowner in Scottsdale, Arizona

Charlotte and Jeff are outstanding pet and house sitters. They are caring, competent, reliable, resourceful, excellent communicators and wonderful with animals. They recently took care of our 8 year old calico cat and her best friend, our 1 ¬Ĺ year old rescue dog, for 5 weeks while we were out of the country. They updated us with email and pictures of both animals, which was heartwarming and very comforting. When we returned it was obvious that both had been cared for with love and affection. And, our home was spotless and everything that had been used was replaced, with a few extras thrown in. They took us to the airport and picked us up, in addition to having dinner ready for us when we got home. To say the least they went above and beyond! Most important of all, they are honest, charming and up beat people you will love, and so will your animals! We plan to schedule our future vacations around their schedule. They are simply the best.




Date of Service Nov 1, 2016
Ernest Little

Homeowner in Panama City, Florida

Charlotte and Jeff were wonderful house and pet sitters. They took great care with our pets, walking the dog, Lizzy daily, giving ample lap time to Mr. Darby the cat and even winning over the most distrusting, Zeus the cat, (thank you Jeff, no one thought it was possible). Charlotte is very organized and before arriving we had communicated several times and upon their arrival I felt I was greeting friends I had known for years! Our home, yard, gardens and pets were happy, well tended and loved during our time away. I would not hesitate recommending them as pet and house sitters for anyone and look forward to having them back some time in the future




Date of Service Sep 9, 2016
Liz Lewis

Homeowner in Charlottesville, Virginia

I must admit, I was quite stressed prior to our trip because we'd never used a dog sitter of this type (had always used family members) and we had also never left our beloved dog for as long as we did. However, my fears were quickly alleviated once I met Charli (her husband Jeff's father is quite ill and he was unable to come). Charli immediately bonded with our dog and us. She is very relaxed, easy to be around and a truly kind and genuine person. We were away for a little under 3 weeks and she emailed almost daily letting us know what she and our dog were up to and she texted photos. We came home to a house that was cleaner than when I left it and she had made us a great dinner! Several of our neighbors commented that they saw her walking our dog much more than we actually do! Everything went really, really well. So well in fact that we're hoping she and Jeff can come back sometime next year. I enthusiastically recommend Chari & Jeff to take great care of your pets and your home!




Date of Service Aug 17, 2016
Kelly Mcdermott

Homeowner in Lake Oswego, Oregon

Charli and Jeff house sat for us this summer (2016), in Portland, OR, and were fantastic. They are easy to work with, straightforward, responsible and go out of their way to make everything smooth. This was our first time using this service and it could not have worked out better.

Prior to arriving Charli send me a short write up of questions about our pets and house. She was prompt in returning emails and helpful in getting everything set up. They were both easy going about arrival and departure details, which was helpful to use because we were on a road trip and didn't exactly know our schedule. Our dog likes a lot of exercise and through the trip we periodically got pictures from his adventures. He was happy, in shape and content when we returned. The same can be said for our cat, less friendly but won over by their attention and care. The house was pristine, and by far in the best shape of any return we have had when using house sitters.

The process of leaving our house and pets with strangers could have been disconcerting and I am immensely grateful for Charli and Jeff's professionalism and attention to detail both before we left and during the trip. I never worried and as things came up during the trip (things shipped to the wrong location, etc.) they were dealt with easily.

I would unequivocally recommend Charli and Jeff for house sitting. I would also be very happy to discuss our experience with them and this recommendation. If interested please ask Charli for our contact info.




Date of Service Jun 12, 2016
Peter Johnson

Homeowner in Point Of Rock, Maryland

I highly recommend Charli and Jeff for anyone looking for reliable, friendly, trustworthy, loving people to care for their home and pets. We were able to get away without a care knowing that all would be handled and that anything critical would be promptly communicated. We would love for them to house sit for us again in the future, and truly cannot say enough great things about them!
Tina and Peter Point of Rocks, MD




Date of Service May 6, 2016
Bob Platka

Homeowner in Hull, Massachusetts

Charli and Jeff are exceptional house sitters. For six weeks they cared for our two indoor cats and two feral cats, who needed to be fed in the nearby neighborhood. They kept in regular e-mail contact with us, updating the health and welfare of all the animals. Charli and Jeff sent pictures and anecdotes of what the animals were doing. They gave both our indoor cats Advantage. Jeff solved a problem with the dishwasher. The gardens were planted and well cared for by Charli. The house was immaculate when we came home. You can not find a better team to care for your house. If you are lucky enough to get them, you will want them every time you go away.




Date of Service Apr 1, 2016
Wini Lemmon

Homeowner in Marlboro, Vermont

Jeff and Charlie are amazing. Our animals loved them and the darn cat cried for 3 nights after they were gone. Love affair with JEFF we figure.
Pets were so well cared for and any health questions were addressed with our Vet.
You will be so blessed to have them - if they chose you!




Date of Service Feb 1, 2016
Rae Sikora

Homeowner in Santa Fe, New Mexico

Charli and Jeff Lee were, by far, the best house and dog sitters we have ever had. We have been using dog and housesitters for decades and never came home to such happy dogs and such a clean house. Charli and Jeff raised the bar on our measurement of a great house and dog sitter. Our dogs were not happy to see them leave and neither were we. We have already booked them for next year. I would not hesitate to recommend them highly for ANY house or critter care.

Please feel free to contact me if you have any questions or concerns about having Charli and Jeff care for your home and furry family.
They cared for our home and two dogs for over a month during winter 2015/2016.

Rae Sikora and JC Corcoran
Santa Fe, New Mexico

rae@plantpeacedaily.org




Date of Service Dec 29, 2015
Nancy And Marty Sevier

Homeowner in Portland, Oregon

Our introduction to Charli and Jeff Lee came by chance while we were seeking someone to watch our home and 10 year old Great Dane while we visited family in Australia for 7 weeks during October and November 2015. We looked online through the list of house sitters and tried 2 sitters, one who didnít respond and one who responded within a day but was unavailable. We tried again a few days later and found Charli and Jeff Lee who responded immediately to our inquiry. We had a lot of questions so we asked if they would call us to discuss our needs more fully. Charli called immediately with enthusiasm and courtesy ready to answer any questions we had about them and their ability to meet our needs. It was quickly apparent that she was well grounded and professional about her responses as well as very cheerful about their previous experiences with past families and a host of different pets. Charli offered a plan to have them come visit us a month before we were to leave for Australia. They visited us as planned and stayed for a couple of days which worked out perfectly to show them the house, appliances, utilities, peculiarities, and meet most of our neighbors. Our Great Dane fell in love with both of them immediately and vice versa.


Jeff proved to be very knowledgeable about home maintenance, I would call him a home operations engineer. They stayed in touch with us weekly and as time grew closer for departure, then even more so. They honored our mutually agreed schedule. This continued throughout our time in Australia. Their care of and communication about our home and our Great Dane was exceptional. We returned from Australia to a wonderfully appealing clean home and a healthy Great Dane. We continue to keep in touch frequently and now have two wonderful beings we call friends.


Marty and Nancy Sevier

503-246-4588




Date of Service Sep 30, 2015
Claude M

Homeowner in Port Townsend, Washington

Charli and Jeff cared for our home and dog for 6 weeks. They were fantastic! They were respectful and treated our home as if it were their own. We are pretty sure our dog never missed us, as they were attentive and loving to her - they really seem to like pet care. Great communication and organizational skills as you would expect from a professional couple. And just plain nice folks too! Highly recommended. We would use them again anytime.

Organised ★★★★★
Reliable ★★★★★
Self Sufficient ★★★★★
Tidy ★★★★★
Pet Care ★★★★★
Received | Oct 4, 2015




Date of Service Aug 18, 2015
Cindi Myers

Homeowner in Ridgway, Colorado

Charli and Jeff did a fantastic job for us. We were away three weeks and never had to worry about a thing. They stayed in touch the whole time. We had a large garden they looked after. When we returned the garden looked great, and I don't know if my house has ever been this clean. Plus, they are just really nice people. We really enjoyed getting to know them and felt very comfortable leaving them in charge of our home.
CINDI (Colorado, Jun 2015)




Date of Service Jun 1, 2015
Jan Mcgee

Homeowner in Orangevale, California

Charli and Jeff Lee dog and house sat for us for 3 weeks in May of 2015. It was a wonderful experience start to finish. They are honest, respectful and very capable as well as kind, interesting and enthusiastic. Everything we needed taken care of was done beautifully and they went above and beyond in so many ways. We cannot recommend them highly enough. Please feel free to contact us at 916-425-2077 or jmdmcgee@sbcglobal.net if you have any questions we can help with. Jan and Mike McGee




Date of Service May 4, 2015
Alison Palmer

Homeowner in Kent, Connecticut

Jeff and Charlotte are wonderful and extremely reliable people. They exercise a lot, which was fantastic for our dogs. They got along with our birds too. They were able to take care of everything with the animals and the house. We were hoping they would return next year but they'd prefer a warmer climate. You will be very lucky and happy if you get them to housesit for you. They are perfect!!!




Date of Service Jan 1, 2015
Holly Cole

Homeowner in North Vancouver, Canada

There is not enough paper in the world to write a reference for Jeff and Charli that would sufficiently acknowledge and appreciate the attention and care they gave our home and our animals. Our cat, which can be skittish and aloof around new people, lost her wariness right away, hung out with Charli and Jeff as they worked during the day and slept with them at night. They took our dog, which had injured her foot just before we left for vacation, to the vet four times, wrapped her foot to keep it clean, took her out for car rides when she couldn't go for walks, and organized their free time around her needs. They kept in contact with us every day, letting us know how both animals were faring.

This was our first time using Trusted Housesitters. It was also the first time we had left our home and pets with someone besides a friend or family member. To be honest, we were a bit apprehensive about having strangers in our home, at how it would all go, especially as our dog is a 70 pound muscular (playful and friendly) Staffie who some people mistakenly think is vicious because of her appearance. We also wondered if our cat would hide under the bed for three weeks. Thanks to Charli and Jeff, our experience was nothing but splendid - we were reassured constantly by text and pictures at how well it was going at home and every day we went about our holiday, delighted and relieved we had Charli and Jeff in our home.

Upon arriving home Charli and Jeff had dinner waiting for us - an amazing treat for weary travellers. They left our house clean and our animals healthy and happy. We hope our thanks to Charli and Jeff fully expresses how grateful we are for how they respected and enjoyed our home and how they loved and cared for our animals.

Charli and Jeff are wonderful people and extraordinary housesitters. By taking care of our home and animals, they took care of us too, and we're hoping we have lifelong friends as a result




Date of Service Jan 1, 2015
Holly Cole

Homeowner in North Vancouver, Canada

Last summer Charli and Jeff looked after our home and animals for almost a month and we couldn't have had better house sitters. We were thrilled when Charli agreed to return and housesit for us for a month this past summer. During one of the hottest summers in BC, Charli spent hours making sure our flowers, fruit and vegetable plants were well watered while keeping our home immaculate and our pets loved and cared for. There was not one moment while we were away that we worried about our house or our beloved pets as we had so much trust and faith in Charli. If we had to choose one word to describe Charli, it would be Responsible. Caring. Patient. Thoughtful. Meticulous. Loving. Organized. Sorry, we just can't narrow it down to one word, except to say she is the Best




Date of Service Jan 1, 2015
Carla Eclad

Homeowner in Kamuela, Hawaii

To whom it may concern:



Jeff and Charlotte Lee were house sitters for our home in Kamuela Hawaii. Our main objective in finding house sitters was the need to have someone care for our cat and water our plants while we were gone for 10 days to the mainland



Jeff and Charlotte were very mindful of our requested tasks and did an excellent job of taking care of our home in June of 2013. Our cats has specific medical needs and Jeff and Charlotte made sure that the cat was feed with her medicine twice a day.



The nice thing was we got to spend time with Jeff and Charlie before we headed out on our trip and had a very pleasant time with them. My husband and I would highly recommend them for any house sitting situation and we know they will be respectful and execute your requested tasks.



If you have any additional questions, please feel free to call me on my cell phone. 206 643 0042.



Mitchell and Carla Ecland




Date of Service Jun 15, 2013