House Sitter
Mike And Vicki Alexander
To send a message to this house sitter, you must login or register.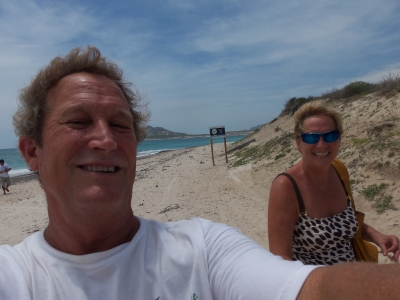 Location: Lawrence, Kansas
Age: 70
Experience: 5 yr
Rank:



rate this sitter
About Mike And Vicki Alexander:
I have been a caregiver and have worked in the medical field for 25 years. We have traveled for the last 13 years,mainly to Florida and the southern states plus ,mexico and costa rica on our own. We have owned our own home for 30 years and and have it rented out while we travel. My husband retired from AT&T with thirty years service and then 12 years as a handyman. He is well skilled in electrical, plumbing,carpentry and is HVAC certified. I have previously owned a flower shop and we both are avid gardeners. We are both lovers of the outdoors, mountains, oceans and various climates. We are both early sixty's, excellent health and very adventurous. We love and have taken care of all types of animals,Mostly cat's and dog's but also livestock in the last 5 years. Our previous stay was in San Jose Del Cabo for 6 months taking care of, and keeping secure a 10 unit complex until hurricane Odile destroyed our complex. So we have had lots of training on storms. Contact us for your house sitting needs, We promise you won't be disappointed. check our profile on housecarers.com Mario2013

PS References and background check provided upon request.

profile viewed 1,595 times
References 14
Julie Sanders

Homeowner in Cape Coral, Florida

Vicki and Mike Alexander were great house and pet sitters! And they weathered Hurricane Irma on top of it all!
We were in Europe for almost 4 months and felt perfectly relaxed about leaving them in charge of our home and 3 dogs.
They met with us in person in advance and took a tour of our home, yard and pool to make sure that we all felt comfortable before the house sit began. We could tell right away that they could be trusted and would be warm and loving towards our dogs.
They did a great job of keeping in touch by text and email while we were in Europe, and also we talked via Skype as needed.
They home-cooked the dogsí food to ensure they ate as they were accustomed to (we left the recipe with them!) and took our Golden Doodle to the groomer regularly, as we had requested.
The mango tree in our back yard produces hundreds of mangoes every summer Ė they made sure they all were gathered and cut up lots of them to freeze and can for us upon our return.
Mike did repair jobs around the house too, without us asking, and did a great job of maintaining the pool.
Most importantly, about 3 weeks before our return, Hurricane Irma hit our town and they took it upon themselves to ready the house and evacuate with all 3 large dogs, ensuring they were safe. They came back after the storm and sent us pictures so we would know the condition of our home as we made our way back. Mike did emergency fence repairs to make sure the dogs were safe, since the hurricane did damage to the fence and mango tree.
When we walked in the house after almost 4 months, the dogs hardly seemed to notice that we had been gone! All 3 dogs were relaxed, healthy and stress-free, and the house was clean and in great shape.
My husband and I would highly recommend them as trusted house and pet sitters. Thank you, Vicki and Mike!




Date of Service May 30, 2017
Martha Soles

Homeowner in Ocala, Florida

House sitting for 2 Labs and a cat.
Subject: From: To: Date:
Fw: recommendation
mike alexander (alex51@sbcglobal.net) alex51@sbcglobal.net;
Sunday, June 18, 2017 10:12 AM
On Saturday, June 17, 2017 6:10 AM, Martha Soles wrote:
Mike and Vicki Alexander house sat/pet sat for us for two weeks in May and we couldn't have been more pleased with everything. They took care of our two high energy Australian Shepherds and our 16 year old cat. They fed and watered our chickens and turkey and collected the eggs. They kept us informed on how dogs were doing and sent pictures which I appreciated. Vicki watered my plants and made sure they were cared for. The house was in excellent shape when we got home including clean sheets and towels. If we need a house sitter in the future I would not hesitate to ask them again.
Sincerely,
Martha Soles




Date of Service Apr 26, 2017
Ann Bemis

Homeowner in Bradenton, Florida

5/5/2017
In regards to reference for Mike and Vicki Alexander:
I've know Mike and Vicki for 30 plus years. When they were in Florida doing other house sitting commitments, I remember thinking, "I would love to have them house sit for me." That opportunity came up this spring.
They house sat for me for a month and a half. During that time, they made themselves available to show my condo as it was on the real estate market. I was away, comfortably knowing they were the perfect ones to keep my home, clean and in order, in perfect showing condition. They also did minor repairs, my "honey-do" list, as well as offered suggestions for what needed attention. Mike took care of several post office requests for me in my absence, which was such a big help - not only taking care of the request but without a doubt I trusted both him and Vicki, with my business, my home, being a part of my condominium community.
When I came returned home, I just felt so welcomed back. My home was just as I left it, but better for having had Mike and Vicki's presence and attention to house sitting.
Thank-you, Mike and Vicki (I want to schedule you next summer in my new home!)
Ann Bemis
(Contact information available upon request.)




Date of Service Mar 15, 2017
Don Legro

Homeowner in Cape Coral, Florida

To whom it may concern,

In September 2016, Mike Alexander and his wife took care of our cat and house in cape coral, Florida through housecares.They showed
up on time and gave us a ride to the airport. They are very nice couple and good with pets and people you can trust in your home. They stayed and watched our cat for 2 weeks and all was good, thanks.




Don Legro
Cape C oral, Fl.




Date of Service Sep 17, 2016
Gil Gray

Homeowner in Belen, New Mexico

March 10, 2016
To whom it may concern,
This is a letter of recommendation for Vicki and Mike Alexander.
My wife Danna and I travel for business several times a year. We live on a small hay farm in the
middle Rio Grande Valley of New Mexico. We have a dog and cat that we care for very much.
We have been using house sitters for the past few years. When we discovered Vicki and Mike,
over a year ago, we stopped looking further. They have been caring for our home, animals, and
yard, off and on, since then. Our experience is: they live lightly on our home, they love our
animals, they are trust worthy, and they love to care for flowers, plants and trees. When we
returned home last fall, there were flowers blooming on our patio and a lovely vegetable garden
growing.
Mike is a skilled handy man too. He has been making home improvements and repairs to our
home, at a reasonable cost, and he does great work. Vicki is willing to do extra work too. We
have a traveling wholesale business. she sometimes helps us prepare our products to take on the
road.
Together Vicki and Mike make a great caring and loving team of caretakers for our home. We
strongly recommend them, so long as we get dibs on them first.
Feel free to contact us, if you have further questions.
Respectfully,
Gil Gray & Danna Loori
510 4061111,
GilGray1111@aol.com





Date of Service Jul 15, 2016
Judi Shinn

Homeowner in Longmont, Colorado

I had never had a house/dog sitter before but thought Iíd give it a try this past March. I got
several replies to my ad, and somehow Vicki and Mike just seemed to be a good fit. The house,
no problem, but I have a dog that is a bit quirky and I just liked the way they sounded about
pets. They were timely in responding to my messages, we talked on the phone, they committed
to coming. They arrived when they said, we had a great introduction to the dog, they
understood how to manage his quirks. I left a bit concerned but after a day or two they said the
dog accepted them and when I returned all three were best friends. My house was in good
shape, but especially the dog hadnít done any bad behavior, like biting them!!
I would definitely have them come back, in fact, Iím holding my breath that they will return for my
next trip. The neighbors who met them when they were out walking the dog said they were
friendly and really nice folks.
So if youíre looking for someone people to care for your house and dogs, I would highly
recommend Mike and Vicki. Just please donít let your dates conflict with my dates!!
Judi in Lake Valley/Boulder, CO




Date of Service Mar 25, 2015
Melanie Muller

Homeowner in Chicago, Illinois

Vicki and Mike looked after our apartment and our puppy Helga while my Husband and I were back in Australia getting married, where we were away for one month including our honeymoon. Fabian had the chance to get to know them before he left for Australia and Melanie once she got back, we had some great chats about farming and travel. We had absolute trust and faith in them when we were away getting married which made it one less thing to worry about in one of the most stressful times of your life. Our dog Helga was in very loving and safe hands with these two and enjoyed cuddles on the couch with Mike and lovely morning walks with Vicki. They also trained Helga and kept her entertained in the cold Chicago winter. They kept us up to date with lovely little photos of Helga which was a nice treat. Helga was very sad to see them go and was a little forlorn for a while after they left. They place was kept very well and was very clean when we arrived back. We would recommend Vicki and Mike to sit your house and to look after your loved animals any day! Feel free to contact us to ask for any more details and praise on Vicki and Mike.
Regards

Melanie and Fabian Muller




Date of Service Nov 1, 2014
Susan Andreoni

Homeowner in Edwardsville, Illinois

TO WHOM IT MAY CONCERN:

Mike and Vicki Alexander house sat for my husband and I in September 2014 while we were away on vacation. They did an excellent job of taking care of our four dogs and one bird and our property. The dogs were well fed and their water bowls were kept filled. They bathed the dogs when necessary, took them for walks and made sure they got sufficient exercise during the day. They took care of our bird by making sure he had clean water and enough food to eat every day.

Mike mowed our 2 acres of yard and Vicki and Mike also took care of my potted plants making sure they were watered during the hot summer days. Together they made sure our house was in order and we found everything exactly as we left it when we arrived back home. Our bed had clean sheets, dishes were done and the house was neat and tidy.

We couldnít be happier with their professional attitude and the exceptional care they took with our home and family while we were gone. I highly recommend them for any house and/or pet sitting positions and will use them again in the future.

Thank you Mike and Vicki.

Susan Andreoni
Mobile 312-354-0832
Edwardsville, IL




Date of Service Sep 19, 2014
Jane Leder

Homeowner in Evanston, Illinois

April 15, 2014

To whom it may concern,

If you're looking for two responsible, handy, lovely house sitters who will tend to your home and animals and plants (and snow, if necessary), then you've found your perfect match.

Mike and Vicki house sat for us for two months while we basked in Mexico and they suffered through one of the Chicago area's worst winters in decades. They never complained, made the best of a lousy situation, and loved and cared for our two Maine Coon cats. The cats were in tip top shape when we returned home.

As a bonus, Mike has been a contractor for many years and, when anything breaks down, he can fix it. Our gas forced air heater hit the skids but, with Mike's expertise and certification, he got it up and running for a fraction of the cost our heating and cooling folks wanted to charge. After spending our wad to stay in Mexico, we were eternally grateful.

When we returned home, our house looked as neat and clean as the day we left. The plants were happy, too.

I'm always available to talk about two stellar people who are traveling the world, learning about other cultures, and taking care of others' home as if they were their own.

Sincerely,
Jane Leder
847-869-4612




Date of Service Jan 1, 2014
Jay Stewart

Homeowner in Lecompton, Kansas

To Whom It May Concern:

I have know Mike Alexander for 20 years and Vicki for 12 years. We have spent a lot of time together over the years as they are an
exceptional couple. They have stayed in our country home when my wife and I have been out of town. They are extremely
dependable, took care of our animals and our home was in excellent condition when we arrived home. They are outdoors
people, love plants, gardening, lawn work and many other hobbies. They are extremely active and in very good condition to
complete any tasks asked of them.

They are very trustworthy and my wife and I would never hesitate to have them accompany us on vacations, general socializing or staying
in our home while we are away. I and my wife would recommend this couple for housesitting and would guarantee you would
not be disappointed in the services you will receive.

Don't overlook them when finding a good reliable couple to take care of your home, pets, plants, pool or any other needs you might have.
Very Professional!!

Jay and Christine Stewart
Owners of Terravest Construction Company
Lawrence, Kansas
Phone# 785-691-6088




Date of Service Oct 1, 2013
Robert & Lynn

Homeowner in Berthoud, Colorado

Letter of Recommendation for Vicki and Mike Alexander
It is a pleasure to recommend Vicki and Mike Alexander as house sitters to care for
property and pets. Vicki and Mike house sat for us for three full months, from early
September-early December 2013.
Vicki and Mike are intelligent, thoughtful people who are conscientious, considerate and
completely trustworthy. We own a complicated property and custom house located in the
foothills of northern Colorado. Mike and Vicki handled all the tasks that we asked to be
done and did so extremely well.
In fact, they did much more than was initially agreed. The day after we left for a three-
month stay in Europe, the worst recorded floods in Colorado history occurred. Our
property was not greatly affected, although there was seepage under the garage and a
good deal of gravel washed away from a driveway leading to our barn. Mike dealt
immediately with these problems without complaint and did so very effectively.
Moreover, he and Vicki kept us updated regarding how our house and property were
affected.
While the problems on our property were relatively minor, nearby there was catastrophic
damage to homes and to infrastructure. Vicki and Mike had to surmount the difficulties
of traveling to obtain food, fuel, etc. Furthermore, the most desirable areas to visit in this
part of Colorado were not accessible for several weeks, and, as of this writing (Dec.
2013), some still remain very difficult or impossible to visit. Nevertheless, Vicki and
Mike managed all these challenges with patience, good humor, and understanding.
Lastly, Mike is a skilled craftsman with outstanding abilities to carry out basic as well as
complicated repairs. Before we left, we had agreed for him to do several repairs to our
house and did them all expertly and for a very reasonable cost. I am 100% satisfied with
everything he did.
Last, but definitely not least, Vicki and Mike took care of our cat, Bristol, with care and
love. When we returned she was clearly very happy and was, in every way, exactly as we
had left her.
In short, Vicki and Mike are superb people to take care of oneís valued and dear
possessions and pets. We look forward to having them house sit for us again.
Robert & Lynn
email: robert.jurmain@sjsu.edu




Date of Service Sep 1, 2013
Peggy Mazuga

Homeowner in Lawrence, Kansas

To Whom It May Concern:

Vicki Alexander has been in my employment since August of 2012. She was hired by me as a caregiver for my livein Mother who is 92 years old.
old. I am a school teacher here in Lawrence, Kansas. Vicki comes to my home Monday thru Friday to care for my Mother. She has proven to be
very dependable, not missing a day since she began her employment. My home is immaculate when I arrive home in the afternoon and all tasks
have always been completed.

Vicki has stayed for extended days, overnight, when it has been necessary for me to be out of town. She is extremely trustworthy. Along with her
caregiving, she has a Shitzu named Mario Chalmers who accompanies her daily. He is the sweetest, most precious little dog I have ever met.
He has never had an accident or been anything but a perfect gentleman while being in my home for the past year and a half. My Mother, having
some dementia, thinks Mario should remain with her and I when Vicki leaves to go home daily. Both of us love Mario, and who wouldn't.

I also know Vicki's husband Mike and have socialized with them as a couple. They are a fantastic couple. Mike is very handy and is able to
repair anything. I have hired him to do various repairs to my home and he always does an excellent job.

This is a very personable, stable, well respected couple in the community. I would give them an excellent recommendation for their retirement
plans of housesitting. Give them a try, I know you will love them as much as my Mother and I.

Peggy Maczuga
Phone # 716-544-0397




Date of Service Aug 1, 2012
Carol March

Homeowner in Lawrence, Kansas

To Whom It Concern:

This letter is written to anyone who is considering short or long term housesitting. We have know Mike and Vicki Alexander
for several years and find them to be an exceptional couple.

We have had them housesit here for us in Lawrence when we have had to be out of town for extended periods of time. We
have a beautiful home and a wonderful little schnauzer . We invited their Shitzuto to accompany them when they were here.
He has a wonderful personality, gets along with all adults as well as other pets. We knew him to be extremely well behaved,
doesn't shed and can you believe he doesn't bark.
We have always been very pleased with the outstanding job they have done including plant care, lawn upkeep, fishpond, pet care
and generally keeping our home immaculate whether they are there for the weekend or extended stay.
Don't miss the opportunity to meet and enjoy this couple, we believe you will be extremely happy with your choice.

Bo & Carol March
Elements Construction
Phone #785-550-6110
Lawrence, Kansas 66049




Date of Service Apr 1, 2012
Marsha Hoppper

Homeowner in Salem, South Carolina

Well I tried posting a review on the website but that option wasn\'t available.

Mike and Vicki house and pet sit for us for 7 weeks, when we returned the dogs cats and chickens were all happy and taken care of. The house was tidy and just like we left it. They also took us to the airport and picked us up. I would recommend them to anyone.

Marsha




Date of Service Jan 1, 2011