House Sitter
Wendy & Gary Kritzinger
To send a message to this house sitter, you must login or register.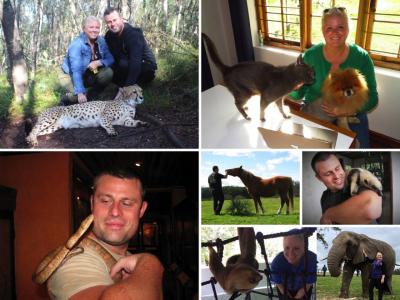 Location: Pletterberg Bay, South Africa
Age: 50
Experience: 1 yr 9 mo
Rank:



rate this sitter
About Wendy & Gary Kritzinger:
Hi, my name is Wendy and my husband and I moved to South Africa in 2018. We owned and managed a guesthouse/B&B in Costa Rica for 8 years and are avid travelers. We are in our 30's and 40's, no children, non-smokers and do our work online so we can work from anywhere in the world as long as we have WiFi. :-) We are huge animal and nature lovers and have volunteered with wild animal rescue organizations (horses, monkeys, anteaters, toucans, bushpigs, coatimundis, sloths, cheetahs, parrots & much more) and at spay/neuter clinics for domestic animals. We also love farm animals and Gary has many years experience of looking after reptiles and amphibians but can also look after spiders and other creepy crawlies! :-)
We are both professionals in the tour industry so if you have guests that need looking after, we're happy to help! W
e have 4 dogs and 2 cats and they are our "furry kids".
When we travel we use house sitters so we know the importance of finding somebody reliable and good at communicating to take care of everything while you're away. We understand that it's not enough just to be there in the house, that you must interact, give cuddles, talk to, go for walks and more. Animal enrichment is extremely important as is keeping animals in their own house and in their own routines, that's what keeps them calm and happy even when their owners are away.
We travel all the time internationally so we thought we would combine something we love to do, something we're good at (taking care of people & animals) and enjoy getting to know a place in a different way...like a local. We are open to all locations,
we just need to look at airfare prices to see what makes sense for us.
Contact us and we can chat to see if we're a good fit or see more about us on our website here:
http://worldtravelerpetsitters.com
References 4
Bryony Moss

Homeowner in Johannesberg, South Africa

Gary has looked after our house and two cats a few times now, and we feel very comfortable leaving our home in his good care. He treats our cats like they are his own and takes extra care in making them comfortable while we are away. We appreciate that he is very efficient in updating us on their well being daily. He is incredibly reliable and trustworthy, and I would be very happy to refer his services to anyone else




Date of Service Apr 1, 2018
Cynthia Crummer

Homeowner in La Fortuna, Costa Rica

Wendy has sat for me 5 different times and I have to admit that I am very picky about who looks after my dogs as they are my everything! Whether it was for a week or a month, Wendy took the best care of my 5 dogs as if they were her own. She would send me photos of them snuggling together on the sofa and playing in the yard and I could see on their faces that they were happy & content. I also have a very old dog that needs special attention and I swear when I came home that old guy was smiling…they all love her! I sleep with all 5 of the dogs on the bed so Wendy did the same to keep with their routine…that's a tall order to ask of anyone. I would highly recommend having Wendy sit for anyone!




Date of Service Aug 25, 2017
Anita Olivier

Homeowner in Plettenberg Bay, South Africa

During 2017, my husband and I finally decided to go on a ship cruise, Wendy and Gary Kritzinger were our "house/doggie" sitters for the 2 weeks whilst we were away. We have 3 dogs, (familyJ). One of our dogs was blind and going deaf, so she needed extra care and attention. This was a big decision for my husband and I to leave our animals, and also our home in someone else's care. We are very particular about our home and this was a big leap of faith for us. Whilst we were away on our cruise, a huge fire started in the surrounding forests of Plettenberg Bay S.A. where we live. Many homes were lost during this devastating fire. Gary kept us constantly in the know as to what was happening, and as the fire came closer to our home, they said that they were probably going to have to evacuate the home and already had our dogs in the car, and asked if there was anything that we wanted them to save from the house in case of the fire. Well, as it turned out the firemen stopped the fire 2 blocks from our home so all turned out ok.

What really put our minds to rest and impressed us was the constant contact on a need to know basis that we received from them. When we arrived home, it was so wonderful to see our 3 doggies well cared for and happy. Our home was neat, tidy and everything in place. They certainly take their responsibilities seriously and I have absolutely no hesitation in recommending them as house/dog sitters.




Date of Service Jun 10, 2017
Maria Fejervary

Homeowner in Piedras, Lake Arenal Area, Costa Rica

I have used Wendy's service as a house and dog sitter many times when I was traveling over the years. My dog is a service dog, highly intelligent, and craves human companionship and stimulation (such as walking, throwing the ball, etc). When I travel I don't take her on the planes with me but she's an integral part of my life so her care is so extremely important to me. Wendy's care for my service dog was always comforting and she did much more than expected. My dog was always very happy when I returned and you could tell she had been well cared for and given lots of love while I was away. When I would return home, the house was always in great shape, just how I'd left it, everything in order and clean. I would have no problem recommending her as a great pet and house sitter.




Date of Service Jan 1, 2017