House Sitter
Marisa Davis
To send a message to this house sitter, you must login or register.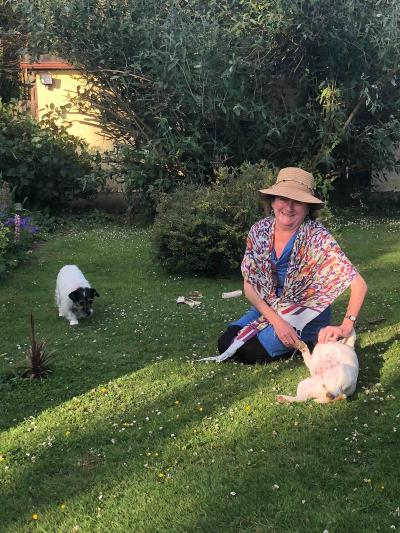 Location: Kalama, Washington
Experience: 10 mo
Rank:



rate this sitter
About Marisa Davis:
I have house and pet sat many times in USA, Canada, England and Ireland. One involved overseeing the renovations and decorating of a $2+Million vacation home on the Gulf coast of Florida. After selling my large home on 10 acres in SW WA state, I started pet sitting, traveling and when in Washington state, substitute teach I have references, many high end homes with various dog breeds and cats, chickens and goats. I have raised chickens, small experience with goats and had a Golden Retriever, Rio, a 220 lb British Mastiff, Brutus and a heroic Yellow Labrador, Bravo. My friends describe me as outgoing and caring. I have traveled a lot throughout my adult life but would prefer longer stays to learn the language and experience other cultures more intimately. I am conscientious and do treat your home and animals as my own.
I will add to this description in the coming days. Just getting started! Return soon to look at my 5 star international house and pet sitting reviews with pictures and my personal and professional background.
References 4
Robbie Private

Homeowner in Portland, Oregon

One week, pet sitting for two indoor cats on a floating home.
Marisa took good care of my cats and home. Everything was in order when I got home. Marisa was easy to communicate with.
Organised
Reliable
Self-sufficient
Tidy
Pet care




Date of Service Jun 23, 2019
Robbie Private

Homeowner in Portland, Oregon

One week, pet sitting for two indoor cats on a floating home.
Marisa took good care of my cats and home. Everything was in order when I got home. Marisa was easy to communicate with.




Date of Service Jun 23, 2019
Carol Private

Homeowner in Wexford, Ireland

Marisa was really fantastic with my two very lively terriers, patient and caring. She was very good at communication before and during her stay. As my plans were hazy and it turned out I was at home with Marisa as support, she was wonderful in what must have been a challenging sitting, a great companion for me and my doggies. A lovely lady who it is my pleasure to have met. I have no hesitation in recommending Marisa as a trustworthy and caring sitter.




Date of Service Jun 13, 2018
Tom Private

Homeowner in Birmingham, United Kingdom

If I could bottle up Marisa and sell her on, I'd be a multi-millionaire in no time. I could describe her as Mary Poppins/Joy Adamson/Delia Smith perhaps? She left our house in better shape than when she arrived in it, she loved our animals and made their welfare her priority, and she even cooked us up a load of Bolognese sauce for the freezer!! She proved to be a totally genuine sitter, enjoying her travelling and taking sittings en route. Her communication before and during the site was brilliant and we were able to email, text or skype at any time. We were also very fortunate to have spent a day or two with Marisa either side of the sit. We went out and Marisa was genuinely interested in visiting our region. She even managed to get invited out with my mates for a meal!! A real character, pleasant and intelligent woman and we greatly appreciate everything she did for us and to allow us to holiday with peace of mind. Thank you Marisa, see you again soon.




Date of Service May 1, 2018