House Sitter
Lisa & Ben Newton
To send a message to this house sitter, you must login or register.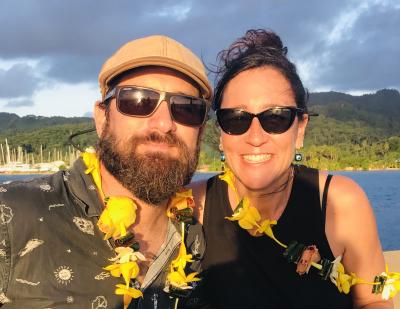 Location: Neiafu, Vava'u, Tonga
Age: 44
Experience: 6 mo
Rank:





rate this sitter
About Lisa & Ben Newton:
Greetings! We know what it's like to have a home, pets and land and to need someone to look after it as well as we would ourselves. That's what brought us to this site to begin with, as hosts.
We've lived on a small off-grid island in the South Pacific for the last 9 years and built it up from scratch into a thriving resort, with multiple bungalows, a main-house, boats and lots of landscaping.
Before that we lived on our 42' sailboat for 8 years, sailing through the Pacific, and prior to that we lived in the East Bay Area of the city of San Francisco, where we originally hail from.
We've experienced numerous and varied life-styles and living situations in our 19 years together and we have come to know what homeowners need in a valuable house-sitter.
Beginning in early 2020 we will have managers tending our island retreat. That will free up our time and so we are ready to again follow our traveler's hearts, seeking adventure and to see some more of this beautiful world.
We are flexible, but would be happiest to stay in one place for a while (few weeks or months) and get to know the personality of a place a bit. We love pets, gardens, practicing yoga, coffee and tea, small communities, cities, nature, adventuring, and comfy surroundings. We are hard-working and handy, have common-sense and are mindful of other's space. We will cherish your home as it is our own and aim to leave it better than we find it.
We are able to make plans well in advance and are able to travel to locations if necessary. We appreciate the use of a car or bikes for getting around and WiFi access. Happy to answer questions and looking forward to hearing from you!
Feedback Received 1
Lisa and Ben house sat for us from 31st July through till the 10th October, 2018, a total of ten weeks. This included looking after our home, cat and extensive garden and beach area. We live on a remote island in Tonga. We operate an off-grid power system and rainwater system, access is by boat only and the nearest town is a 20 minute boat ride away. Therefore, we needed to be confident with their ability to handle all aspects of this assignment. We were given regular email updates and any issues and maintenance were taken care of giving us total piece of mind. Upon returning it was clear we had made a great choice. Lisa and Ben had taken excellent care of our home, cat, gardens and beach. I would highly recommend them as house sitters. We were so impressed we have already booked them for another assignment. Regards Anne and Mark

Reviewed May 12, 2019 by homeowner in Tonga, South Pacific
References 1
Anne And Mark Massey

Homeowner in Neiafu, Vava'u, Tonga

House sat for a few months for home, cat, island gardens and upkeep. Scheduled to house sit for them again for 5 months beginning 5 June 2019.




Date of Service Jul 25, 2018